Aldridge brings European kitefoil title home with Portsmouth win
---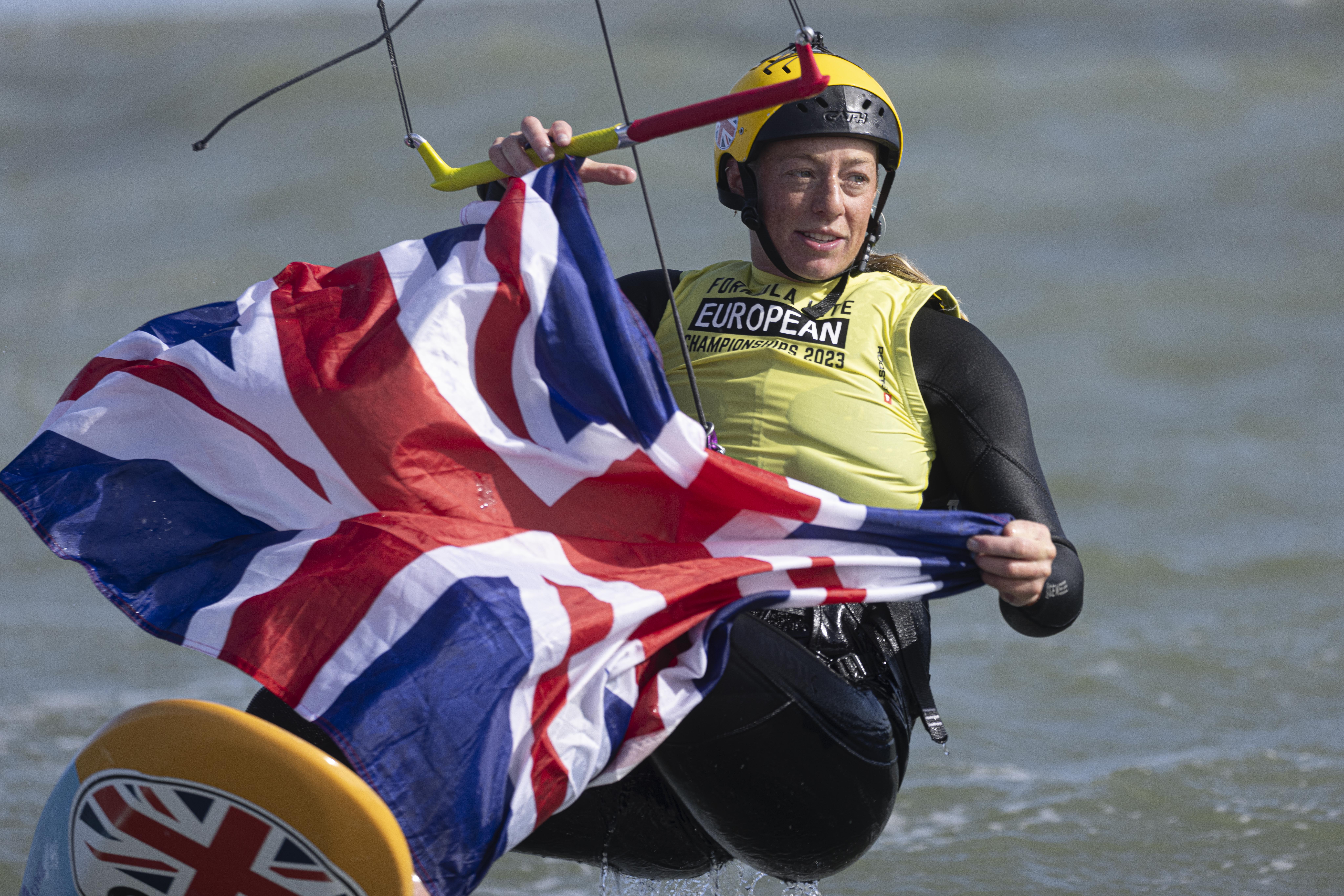 Ellie claims crucial victory in countdown to Paris 2024
Ellie Aldridge said her international rivals have "something to watch out for" as she was crowned European kitefoil champion on home waters.
The British Sailing Team's Aldridge rounded off a stellar season with victory at the 2023 Formula Kite European Championships in Portsmouth, a key result with the Paris 2024 Olympics less than a year away.
The win came off the back of silver medals at the Paris 2024 test event in July and the Sailing World Championships in August.
Aldridge dominated the 41-strong women's fleet over four days of high-octane racing off Eastney Beach, sealing victory despite an unforced crash just metres from the finish line.
"Winning the European Championships in the UK is an absolute dream," said Aldridge, from Poole, Dorset.
"I didn't make it easy for myself with the crash right at the end of the first race of the finals, but I got back up, got back into it and won the next race to take the title.
"When I crossed the line I was just so relieved. I've never actually won an event in this format before so I'm super happy."
World champion Lauriane Nolot of France was among a number of athletes who chose to sit out the European Championships after a long, tiring season.
However Aldridge said her win should serve as a warning to Nolot that she more than capable of usurping her as the queen of the kitefoil circuit.
"Lauriane might not have been here, but she's got something to watch out for next year," Aldridge added.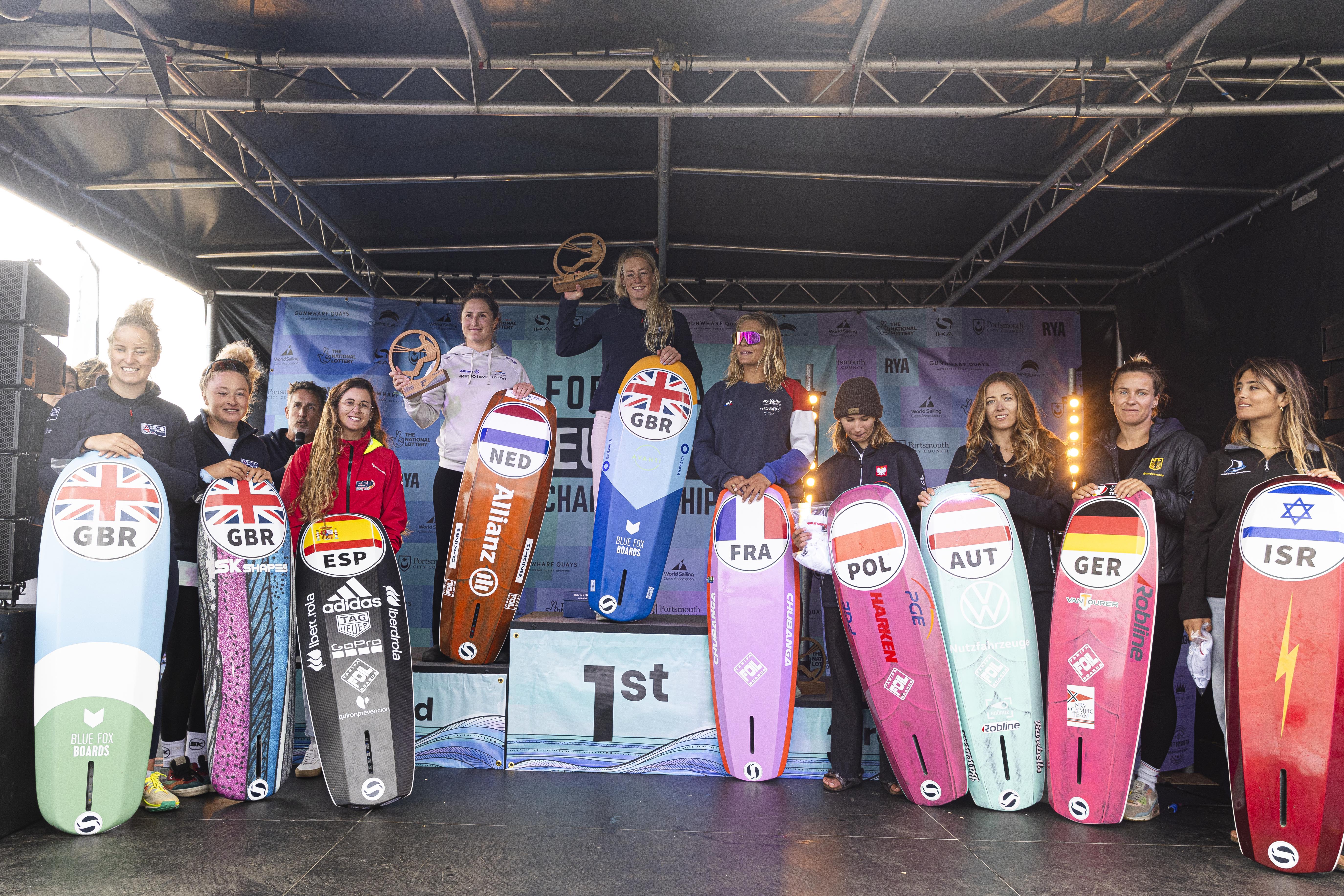 Young fourth but happy
After a solid performance all week, Lily Young went into the final solidly in third but fell foul of the Formula Kite class's scoring format and had to settle for fourth overall.
Nevertheless, Young said she was proud of her achievements this year, which included winning bronze at the World Championships last month.
"I'm pretty disappointed with losing third place today but I'm happy with my week overall," said Young, from Weymouth, Dorset.
"It sucks not to come away with a medal but it is how it is in this kind of racing – sometimes you win, sometimes you lose. I've sailed a great regatta though, probably the best all season, and I'm really happy with that."
In the men's fleet British medal hope Connor Bainbridge went into the semi-finals in third but was knocked out by France's Maxime Nocher.
Bainbridge finished fifth overall but crucially Germany's Jannis Maus was fourth, bagging the one nation for Paris 2024 spot up for grabs at the regatta.
Bainbridge will now have to wait until the Semaine Olympique Française regatta in April next year to have another shot at qualifying Great Britain for a place on the Paris 2024 start line.
Sporting royalty Dame Katherine Grainger, Chair of UK Sport, was on hand to present the medals at a packed beachside prizegiving.
The ceremony rounded off a successful week for the RYA-run regatta which saw hundreds of people flock to the beach to watch the action as well as take part in Virtual Reality kiting, sailing and windsurfing as well as wingsurfing taster sessions.
For full results from the regatta, click here.