PETERS AND STERRITT LOOK TO CONSOLIDATE COMEBACK IN AARHUS
Written by Will Carson 4th July 2022 Featured-post, Team news
James Peters says he and crew Fynn Sterritt have put together a "strong package" as they head into the 49er European Championships fresh from victory in the warm-up regatta.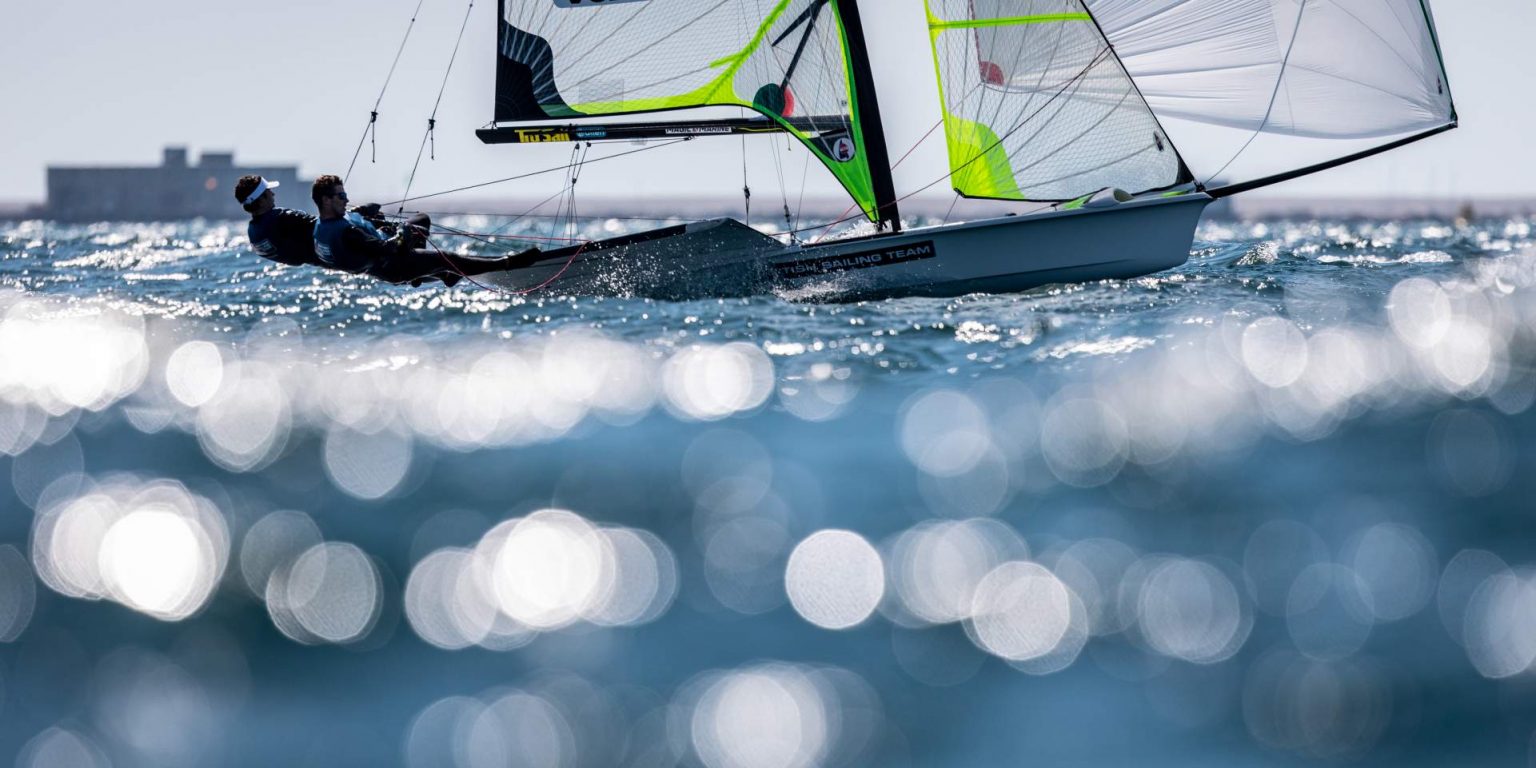 © Lloyd Images / British Sailing Team
The duo took the top spot at the renowned Kiel Week regatta against strong competition, heralding their comeback on the international circuit. 
Peters and Sterritt both took time away from sailing after missing out on Team GB selection for Tokyo 2020, and their return to action has been hampered by injury. 
However, the pair surpassed their own expectations at Kiel Week, beating a 91-boat fleet that included Tokyo 2020 fourth place finisher Diego Botin Le Chever and 2018 world champions Sime and Mihovil Fantela. 
The European Championships is the biggest event of the 2022 season so far, and with Paris 2024 just two years away will prove a crucial benchmark across the international fleet. 
Buoyed by their win in Kiel, Peters says he and Sterritt will attempt to replicate that success when racing starts in Aarhus, Denmark, on Tuesday July 5. 
"Kiel Week certainly exceeded our expectations," Peters said. "We had started to see some things click after slower progress to our return, but we didn't expect to win. A top ten was what we were aiming for, so we were super stoked to come away on top.  
"We know we've got a strong package going into the Europeans capable of being fast across all conditions. The intensity we're reaching as a team is closer to what it's going to need to be to make it to Paris. It felt like we were a bit behind schedule but now we've jumped up to where we'd hoped we'd be at this stage, which is a really nice feeling." 
Peters and Sterritt are among six British crews hitting the water for a tilt at the European title. 
One major change to the British Sailing Team line-up sees Rhos Hawes rejoin Chris Taylor for a shot at the Paris 2024 spot. 
Hawes partnered with Tokyo 2020 gold medallist Dylan Fletcher at the start of the 2022 season, however Fletcher has since made the tough decision to retire from Olympic campaigning.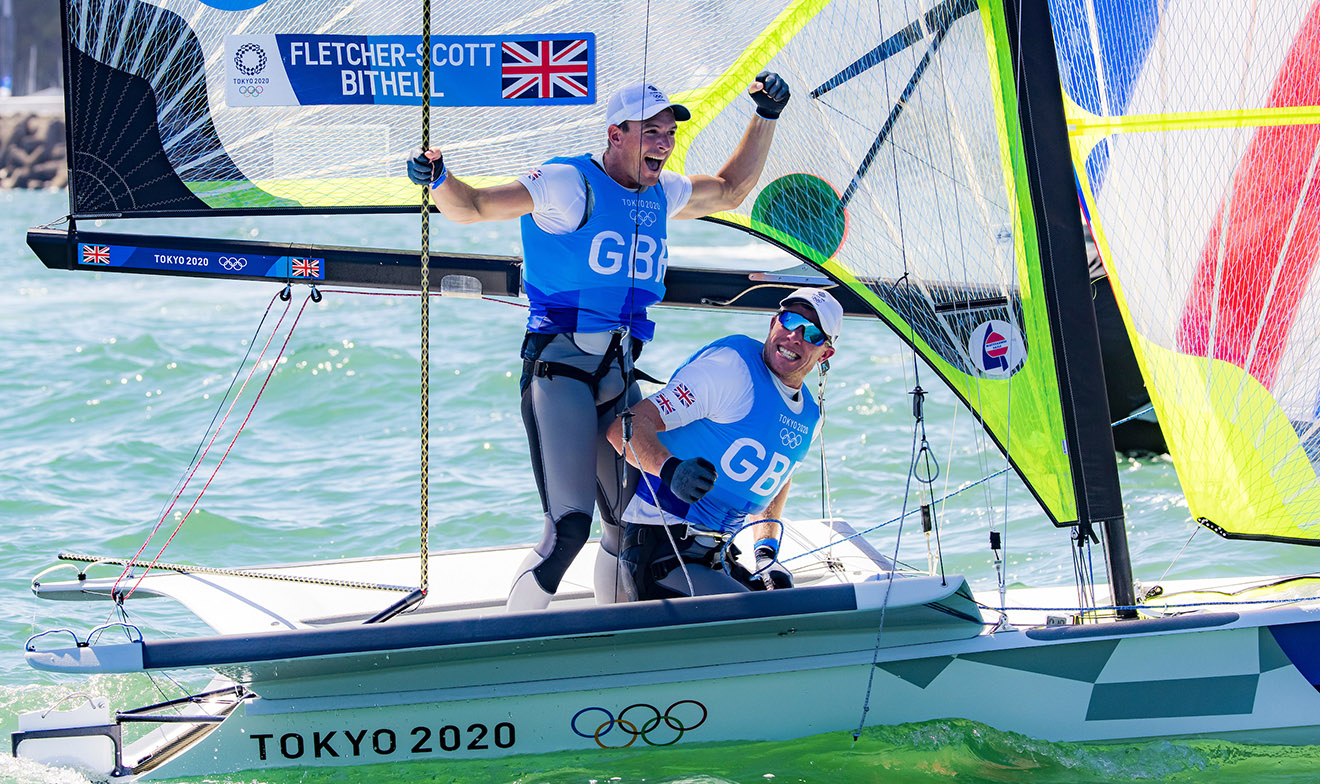 © Sailing Energy / World Sailing
Fletcher said: "It's been an incredible journey with the British Sailing Team. After Tokyo I knew I had to give it another push for Paris but unfortunately it just was not meant to be this time. Best of luck to Rhos and the rest of the 49er squad. 
"I just want to say a massive thank you to everyone that has been part of my campaign at the British Sailing Team. We are so lucky to have an amazing support team and Tokyo really was on another level. Time to sign out and pass the baton." 
Hawes added: "I'm really appreciative of the opportunity I've had to learn as a sailor with the reigning gold medallist over the past six months, and they are lessons to be carried forwards in my refreshed campaign alongside Chris Taylor. My goals and desire for an Olympic medal are still just as prominent. I wish Dylan the best of luck with everything to come." 
In the 74-boat 49erFX fleet five British crews including three British Sailing Team crews will contest the title. 
Tokyo 2020 Olympian Saskia Tidey and new teammate Freya Black will be looking to make an impression on the fleet, although their lead-up to the regatta was disrupted by Covid. 
"Our lead into the Europeans has been challenging and not quite as planned," Black said. "We will push through and hope to be fit and fighting on day one. We are buzzing to make a debut as a team at our first Europeans together and we are ready to give it the best shot we can." 
Steph Orton, who heads into action alongside Megan Brickwood, added: "It's super cool to have one of the biggest turnouts to the Europeans with around 75 boats, it will be great to do some bigger fleet racing and see how we're going on the new kit. It's looking like a big week ahead with plenty of wind coming." 
Reigning Nacra 17 European champions John Gimson and Anna Burnet will attempt to hold off nemeses Ruggero Tita and Caterina Banti to retain their crown. 
The pair finished runners up to their Italian training partners at Tokyo 2020 and have not beaten them at a major regatta since. 
Burnet said: "As always with a class championship it's a six-day regatta, so a long battle of attrition. We feel like the speed we've been working to find is coming but we don't expect to be the quickest boat at this event so we will have to race well!" 
To follow the results, click here.