HAWKINS BRONZE CAPS STRONG BRITISH IQFOIL SHOWING
Written by Richard Aspland 31st January 2022 Featured-post, Paris 2024

Young windsurfer Finn Hawkins took bronze at the iQFOiL International Games in Lanzarote which saw six Brits featuring across the top tens. 
Hawkins was one of four British sailors in the men's top order while there were two in the women's, including Tokyo 2020 medallist Emma Wilson who narrowly missed out on another international medal. 
In the first major event of the year for the Olympic classes, the competitors contended with different formats from the traditional RS:X as they took on course racing, slalom and the gruelling marathon disciplines. 
With the squads still getting used to new equipment and formats, and the addition of new coach Nick Dempsey, the International Games was seen as an event that could help shape the year ahead for the British Sailing Team. 
Hawkins' medal was a bonus for the team that ultimately showed they have great strength in depth going forward. His bronze in the overall fleet was also enough to secure the U21 title. 
Hawkins, 19, from St Austell, Cornwall, said: "I had so much fun racing in the iQFOiL International Games. Throughout the week we had a range of conditions which made for some difficult and close racing, with the most extreme conditions being on the medal race day where we had huge waves and lots of wind.  
"The medal races were super intense as you could crash at any moment on the course. I managed to make it all the way to finals which felt amazing and I am so happy with the result of third overall and first U21." 
Other British interest in the top ten was Matt Barton who finished sixth, Andy Brown who finished eighth and Sam Sills who completed the medal race list in tenth. Tokyo 2020 windsurfer Tom Squires finished in 22nd in the 70-boat fleet. 
Brown, 22, from Glasgow, Scotland, said: "The event went alright in the end. It was a bit of a training regatta for us but still a very strong field. Great to finish in the top ten. It was an elimination format and I got pretty close to qualifying for the semis, but it is still a bit new and we are still getting used to it so it was good to build up those experiences. 
"Historically I've struggled at the start of the year, so it was nice on a personal level to start off on a good one and show some real progress."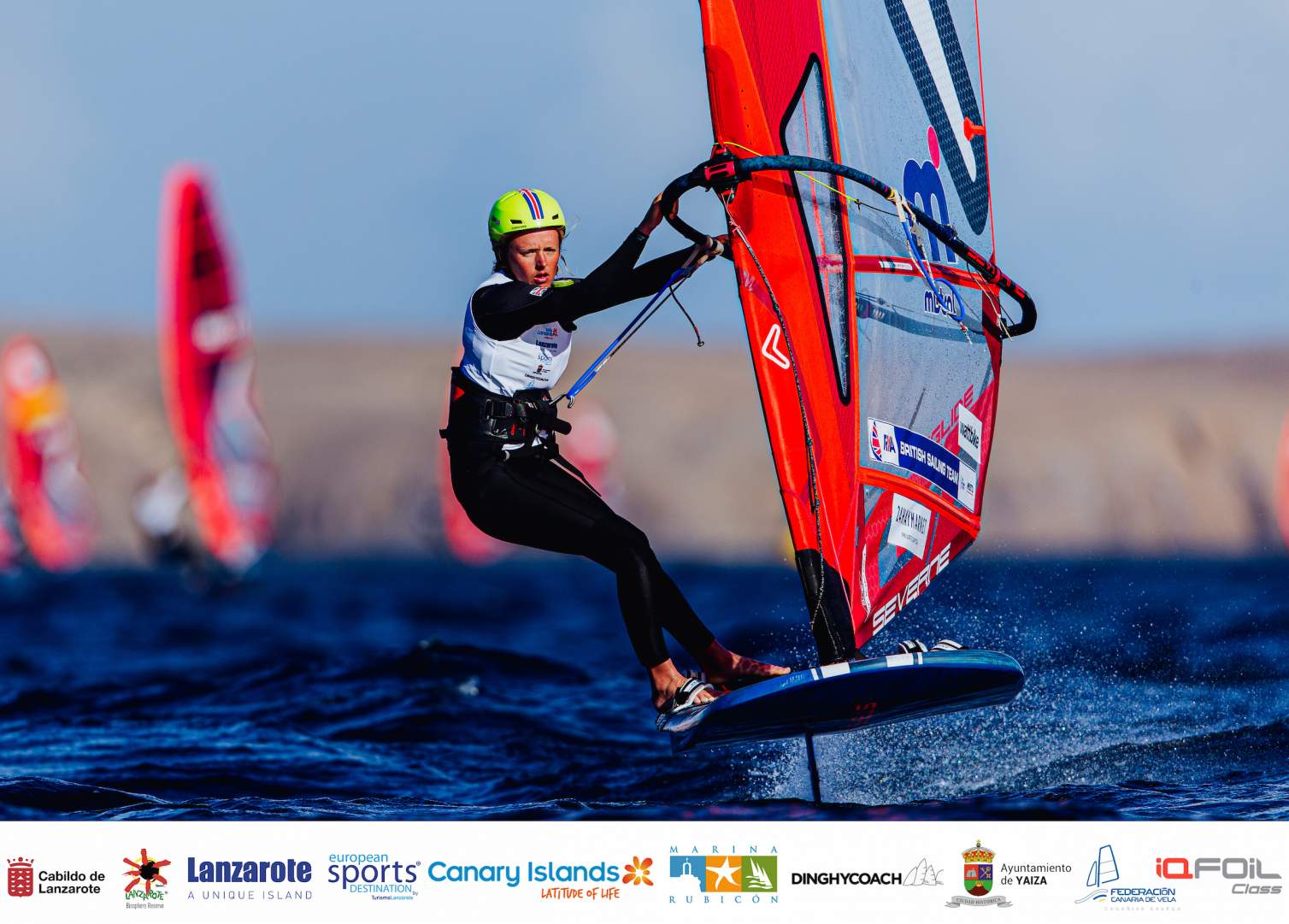 Emma Wilson was the top British female in fifth in what was her first international iQFOiL event. Wilson had a string of top two finishes including an impressive two wins from two in the marathon format. 
The Tokyo 2020 bronze medallist said: "I'm pretty happy with how it went. I had good speed in most conditions and had a lot of fun doing the different formats. We did slalom, a marathon and course racing on one day which was pretty wacky but a lot of fun. 
"The final day I had a bit of a nightmare as it was basically where you finish in the final race is where you finish overall so I finished in fifth. The conditions were extreme, and I've never sailed in those conditions on the foil. But now I know what to work on. I'm excited to get back to it and see how much I can improve before Palma." 
Scotland's Islay Watson once again sailed to a top ten finish reaching the medal race in the 31-boat fleet. 
Other British interest saw Alice Read in 14th, Alysia Gibson in 16th, Jennie Roberts in 23rd and Emily Hall returning to action in 29th. 
Full results can be found at https://iqfoilclass.org/ig2022lanzarote/